Ann and Bobby. One of my favoritest couples to date. (Favoritest–that's a word, right?!) I remember meeting them way back when at Starbucks to talk about wedding plans and look at some sample albums. I shared all of my silly organizing tools and lists while describing my whole "planning for the wedding" bit. Ann told me on the spot she'd just developed a crush on me. Another list girl–that's my kind of bride!
When we got together last fall for their engagement shoot at Bobby's family's farm we had a blast. These two were high school sweethearts. Indeed they've known each other since the first grade, I believe! (Their class photo was on display at the wedding. So cute!) I love how much fun they have together and they are just an easy, casual, loving couple. The fact they they are good-looking and photogenic was a total bonus. 😉
I met up with Ann at her parents' house while she and her girls were getting ready. I loved her details.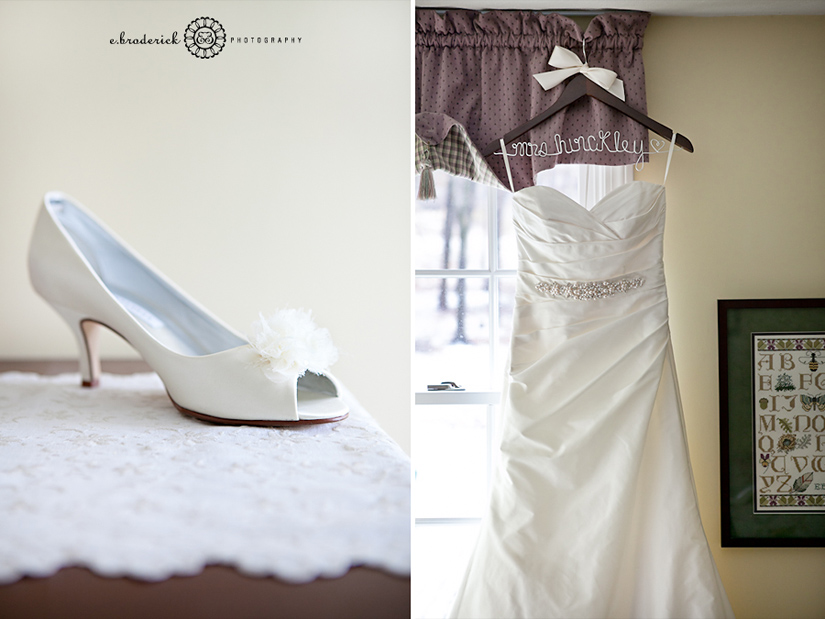 Stumbled on this very old family wedding photo in their house. Not sure who they are but love finding little pieces of history like this!
The old and the new.




Both of Ann's grandmothers had passed away so she honored them by including a brooch from each of them on her bouquet. Lovely and very touching.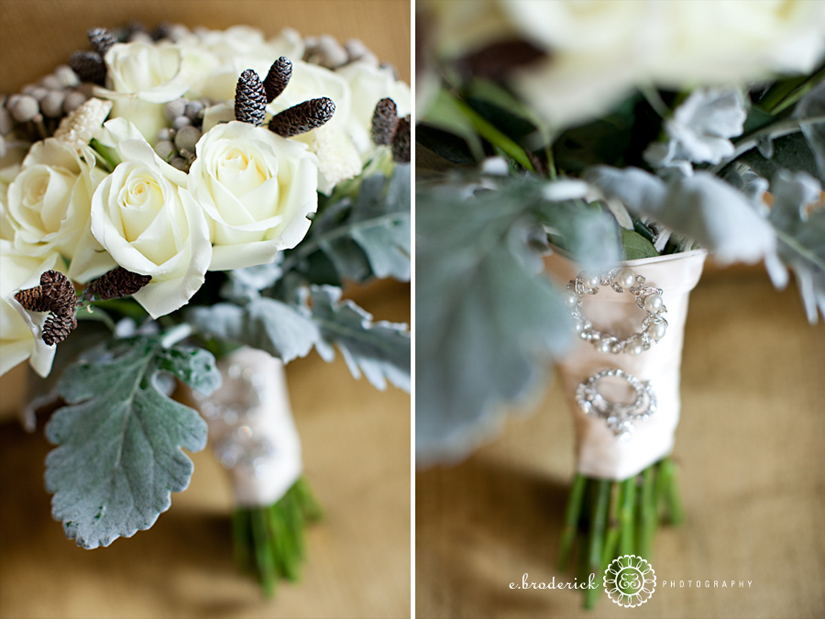 Her flowers were gorgeous, by the way. I loved the pretty, wintery colors she chose. They were done by Robinson Originals in Simsbury.




I love the getting ready process. Ann's make-up was done at Puffer's Salon and Day Spa in Westfield. You'll get a better taste for how it came out in some color pics later!



Meanwhile–Julia was hangin' with Bobby and his guys. Love her shots:




Finishing touches!






Ann and Bobby chose to do a First Look prior to their ceremony. These are always a great idea, in my opinion, but with a January wedding we knew we'd be without daylight after the church so it was key if we wanted outdoor shots. Of course it was f-r-e-e-z-i-n-g and raining and windy so poor Ann suffered terribly–but it was worth it!
Love Bobby's big ol' smile waiting to see his beautiful bride!






I think they're pretty happy with what they see. 😉












After everyone was sufficiently frozen to the bone we decided to finish up with some pics inside!
Love the girls' red dresses with their gorgeous bouquets.








After the formals we headed on down the road to the church for the ceremony:








Gotta love Bobby's kiss in the bottom right image below. He told me at their engagement shoot that he would do that but I wasn't sure I believed him. Sure enough–he did! And it was a hit!




Ann and Bobby's reception was at The Riverview in Simsbury. It was such a lovely, cozy space for a winter wedding.












The toasts were, no surprise, full of laughs!






Tons of fun was had on the dance floor. Tony from Rob Alberti's Event Services did an awesome job keeping the crowd moving.
Last shot of the night. Classic.
Ann and Bobby–congratulations! And thank you for being such a fun couple to work with. Wishing you a lifetime of love and happiness!