My usual posts tend to be pretty and happy images of sweet babies, children, lovely brides and handsome grooms. I have lots more going on in my mind than I ever find the time to blog about. But this is a topic that deserves some attention. I've meant to blog about it in the past and never pulled it off but today received an email from a close friend, Jess, detailing his plans for his third trip to Afghanistan so I decided to finally make this happen.
Jess, by the way, was once of one those "handsome grooms" on my blog! Here he is last September at his wedding in Sisters, Oregon: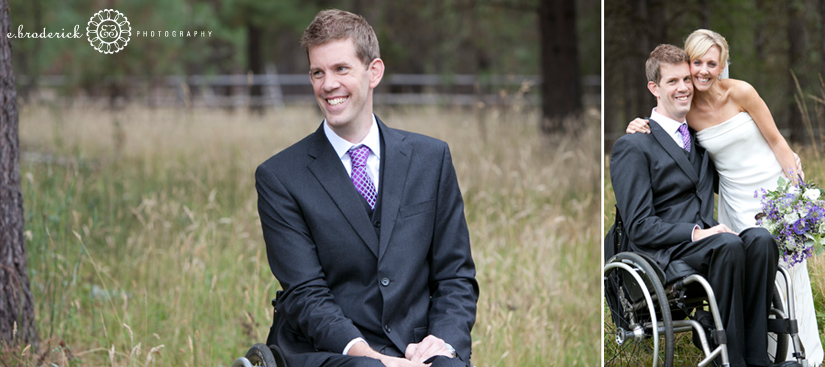 In just over a week Jess leaves for a 2 month trip to Afghanistan. He has gone twice before to work with wheelchair-bound residents who are interested in learning to play wheelchair basketball. There have been several exciting developments since his first trip. In Jess's words:
Here it is, Spring 2012 – about two and a half years since I made my first journey to Afghanistan to spend a week teaching a team of 12 Afghan men in a little town called Maimana the basics of wheelchair basketball. Since that initial trip, the sport has seen tremendous growth in several cities across Afghanistan, with new men's and women's teams having been formed – and many new players joining existing teams – following the delivery of 120 brand new basketball wheelchairs to the country in January 2011. Last May I made a return trip, this time working with about 70 players in three cities over the course of three weeks and seeing first hand the enthusiasm and excitement that wheelchair basketball is creating amongst the Afghan disabled population. Momentum has continued to build since my return to the U.S. last June, both within Afghanistan and abroad, and several significant developments have come to pass that are bringing a new level of excitement and legitimacy to this rapidly accelerating effort.
Jess started a blog to keep his friends and family up to date on his travels, along with other interested parties. On his last trip, in 2011, documentary filmmaker Michael Glowacki captured some incredible footage of his work with the men in Afghanistan. You can view a trailer here at the Kickstarter website.
Jess writes:
Michael hopes to join me again for the last month of my upcoming trip to capture more footage and continue to build the Afghan players' stories. A film like this will be an incredible awareness-building tool if completed, so I'm excited to see where the team can take it.
Jess's blog is definitely worth a look. You can read some more about his upcoming trip and about his partnership with the ICRC, the International Committee of the Red Cross.You can also scroll down to some of his earlier entries from his previous visits to get a better understanding of the amazing growth this sport has seen in just a few short years. I remember when Jess shared photos from his first trip. He described the limitations these players faced because they were forced to use old wheelchairs not designed for basketball so the movements he was attempting to teach them were often difficult for them to replicate.  It was a huge victory when last January many new wheelchairs were delivered to the players in Afghanistan. There are many new and exciting developments on the horizon as well!
You can read more about Jess's travels here.
I know that Jess doesn't expect any accolades for what he does. But given the state of affairs in Afghanistan and what Jess risks and what he gives up to spend time in this country helping strangers (many of whom have since become friends) I am just so inspired and so proud and so, so hopeful for him and for all of the people who's lives he will touch on this upcoming trip. Please consider supporting his efforts and saying a prayer for another safe and successful trip! Jess-we are so excited for the amazing growth that you have helped to facilitate. You are touching so many lives!